>>  Saturday, August 27, 2011
On Just Beautiful this week....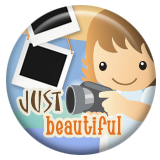 It's been a while that I haven't doing any blog posts lately due to the fact that I have two kids to take good care of, while hubby went to work for almost everyday. So, I was left alone and have to take good care of things before my blog which is sometimes sad because I missed a lot of things and opportunities as well.
By the way, this week I wanted to share some of the photos I took last weekend when we went to an Air Show. The air show was all about men stuff, but I was there to see some of the US aircraft that I only had seen on TV or movies. It is a very interesting show as a matter of fact, you will see a lot of things too of how big and what it is look like to be in front of an aircraft that was used for wars/combat.
The Raptor's unique combination of stealth, speed, agility, precision and situational awareness make it overwhelmingly effective in its combined air-to-air and air-to-ground mission capability. In its expanding role as an ISR asset, the F-22 is making the entire joint force more effective by collecting timely information about the forward reaches of the battlespace and relaying it to other aircraft and command/control nodes.