>>  Tuesday, June 15, 2010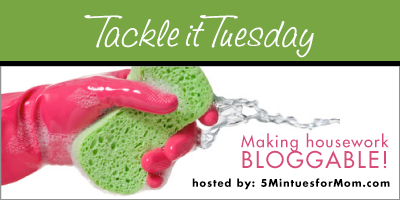 This week on Tackle It Tuesday is Cleaning the Mess...

It may sound so funny but sometimes I feel like to clean the house when we have visitors to come over, and we don't have that people to come over except some of my friends and relatives and my husband's family, that's what much about it. Basically, we don't clean our house that much often. It's terrible but that's how we are and maybe it is always up to me. I cleaned the kitchen regularly, but not vacuuming, sweeping, or even mopping the floor which is somewhat unusual to me. My husband used to say how dirty the house now but then he wasn't that nagger who gets mad and wanted me to clean up right away. I guess being used to it and having a kid who always attached with messy mess is what the problem of it all.

Well, just last weekend, my husband and I decided to make a change. We clean the whole house up and down and everything turned out nice. He cleaned the kitchen where he lifts up the appliances to clean it up and then vacuum the floors. Then, I cleaned the two bathrooms, sweep and mopped the floor. The house is pretty nice now. Guess what? We did it because my father in law will come for a vacation from Florida. Isn't it ridiculous?

I don't know but that's how I am for now especially when I was working online too. I think I have to make something about it. Clean every mess my son made every now and then, just ask him to pick up all his toys when he was done. Clean up everything little by little so it won't be a bunch of stuff and be a huge mess again. I think that's a good idea to do to keep the house clean and maybe free from mess.